This November we are excited to present several very special works in our Modern + Contemporary Art + Design sale.
For the first time at auction, we present a work by Austrian painter, Goetz Valien. Valien worked for much of his adult life as a movie poster artist and is also known for winning a lawsuit against the estate of German painter, Martin Kippenberger. This win allowed him to take credit for his role in the painting of the Paris Bar series, previously credited solely to Kippenberger. Valien's work in this month's sale, titled Ego, is a monumental acrylic on canvas painting of a dream-like scenario in which a figure walks through a maze of metal bars at twilight, evoking influences from Edward Hopper and Giorgio de Chirico.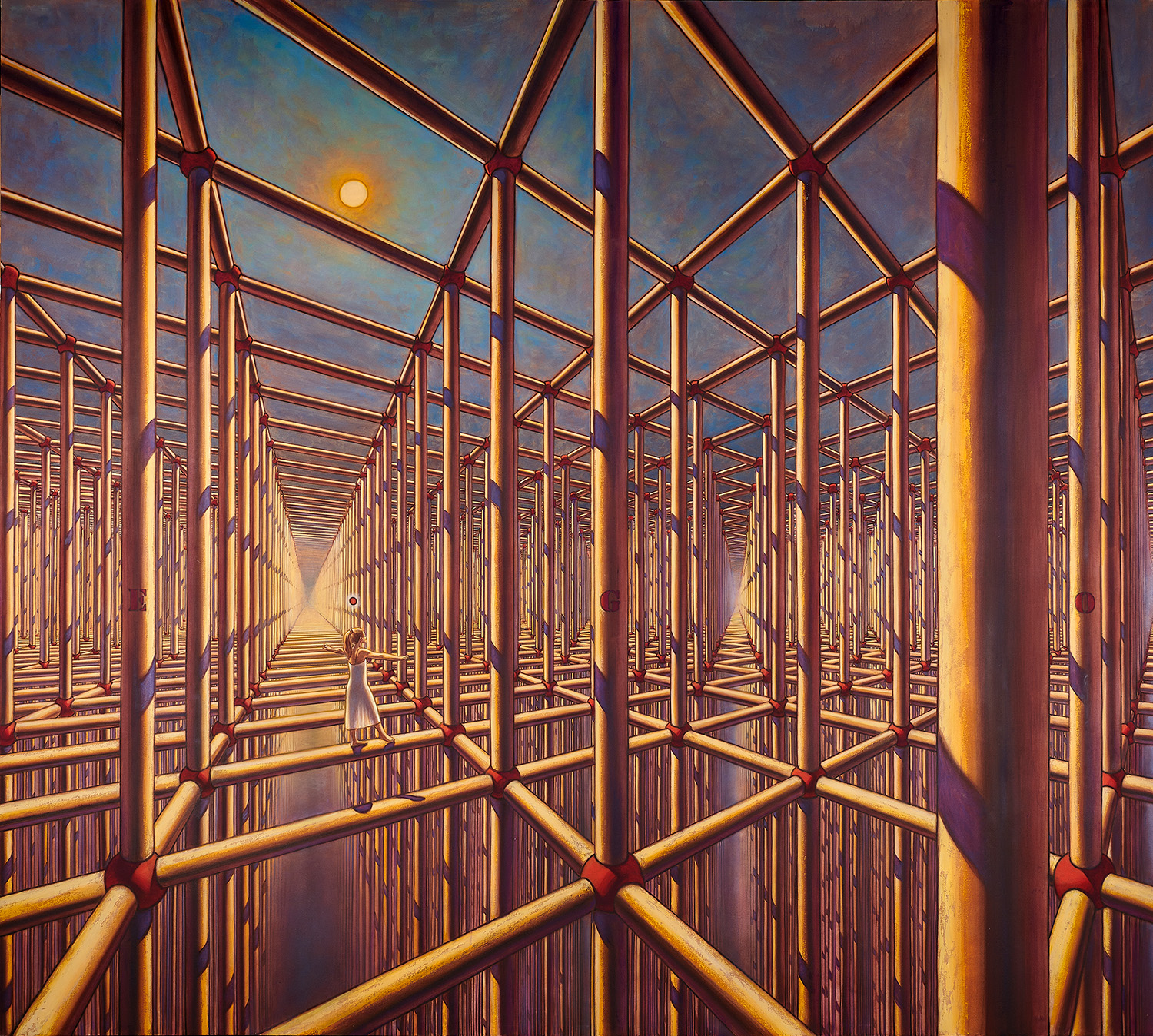 Also coming in our November sale is a large screenprint by American Pop Art icon, Andy Warhol. This piece, titled Letter to the World (The Kick) from Martha Graham, depicts American dancer and choreographer Graham performing in a full-skirted dress in tones of blue. Graham is known for her unique technique, emphasizing "contraction and release," and having a major influence on American dance since the 1920s. This print is one in a series of three that Warhol made featuring Graham, and it features his trademark screen-printing style that is comprised of solid blocks of monochromatic tones with a strong outline and lined detail — like the pink seen here in the folds of Graham's dress.
Another highlight this November is an oil on canvas painting by Latvian-American artist, Raimonds Staprans. Staprans is known for his large swaths of bright color, often oranges and blues, and his understated treatment of subject. This piece, titled Red Sun, depicts a stylized landscape rendered primarily in saturated tones of red and orange with patches of bright green and blue. The sky dominates the image, taking up more than half of the canvas with its red and pink hues surrounding the pale orange dot of the sun hovering over the horizon. Staprans moved from his native Latvia in the early 20th century and settled in the San Francisco Bay Area, where he has remained active since. Staprans hosted a 60 year retrospective exhibit at the Crocker Art Museum in Sacramento and the San Jose Museum of Art in 2018.
One of the many highlights of the Design portion of the sale will be a Paul Frankl (1886–1958) Speed chair — the form originally designed in 1935. The iconic form is a testament to Frankl's streamlined and architectural designs of the period, which took Design to the next level. Paul T. Frankl was one of the most important and influential designers working in the United States during the first half of the twentieth century. Clars is pleased to offer an example from 1946 that was a fixture of Charlton Heston's office at his custom Mid Century Modern 3.5 acre hilltop mansion in Beverly Hills, CA. Heston used to refer to the mansion as "The house that Ben-Hur built," as this project was undertaken after the filming of the legendary motion picture.
Finally, we are pleased to offer a sculpture by contemporary Portuguese multimedia artist, Joana Vasconcelos. This sculpture, titled Cesar, was formed by covering a ceramic statue of a dog in a net of colorful, hand-woven crochet detail. A quote from the National Museum of Women in the Arts reads that in this series, Vasconcelos brings to light the "dissonance between handcrafted and manufactured" by covering a mass-produced dog statue with a painstakingly crafted textile. The juxtaposition is both jarring and aesthetically appealing; the colorful yarn seamlessly fits the dog's body, while at the same time, the life-size animal appears lifelike enough to become uncanny.
This exciting work, along with others from Raymond Pettibon, Christopher Brown, Matt Gondek, and more will be available to bid on in our carefully curated November sale. Plus, we are delighted to offer Design items crafted by Tiffany Studios, Michael Taylor, John Cederquist, Dirk Van Erp, and more. This sale truly has something for every collector!